VARSITY JACKET APPOINTMENTS CAN BE TILL 9PM AFTER HOURS DURING THE WEEK.
IF YOU WANT SOMETHING OTHER THEN YOUR MASCOT IN THE MIDDLE BACK FROM THE LOCAL SCHOOLS, YOU NEED AN APPOINTMENT.

NO APPOINTMENT NEEDED FOR THESE SCHOOLS FOR VARSITY JACKETS, WITH THE NORMAL SCHOOL MASCOT IN THE MIDDLE BACK.
AVONDALE, ROCHESTER, ROCHESTER ADAMS, STONEY CREEK, ROCHESTER HILLS CHRISTIAN, TROY, TROY ATHENS,
LUTHERAN HIGH NORTHWEST, UTICA, HENRY FORD II, EISENHOWER, LAKE ORION.
All varsity jackets are made in house and can have regular embroidery and/or chenille stitching. Please bring in your varsity letter.
Our signature Diamond Sparkle Material even more impressive than Rhinestones, in direct sunlight. No picture or video can do it justice. You have to see it with your own eyes to believe it.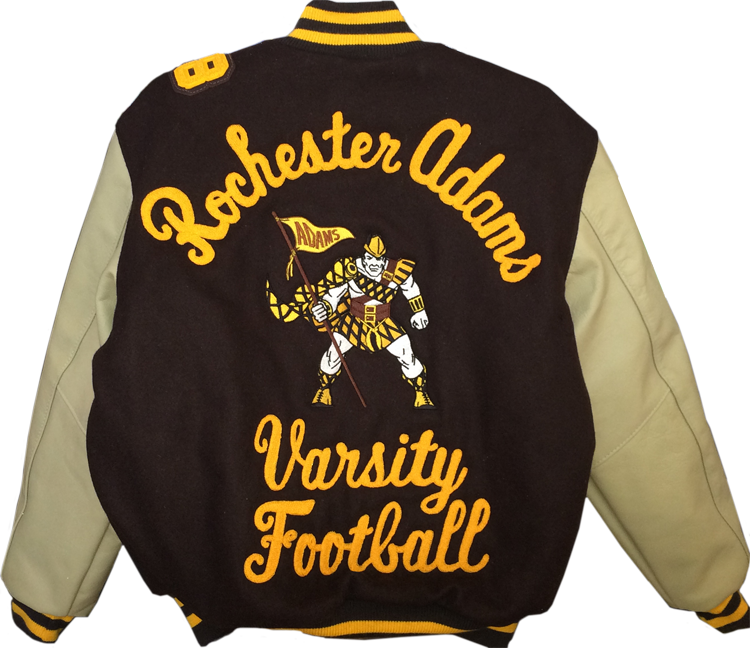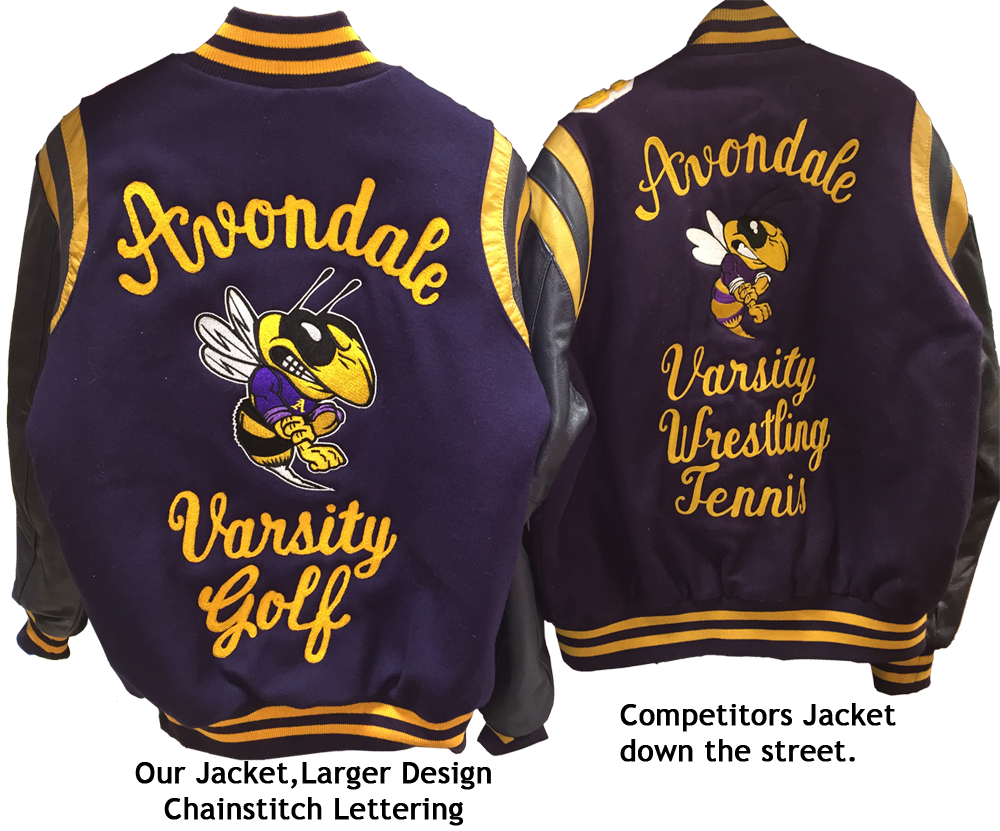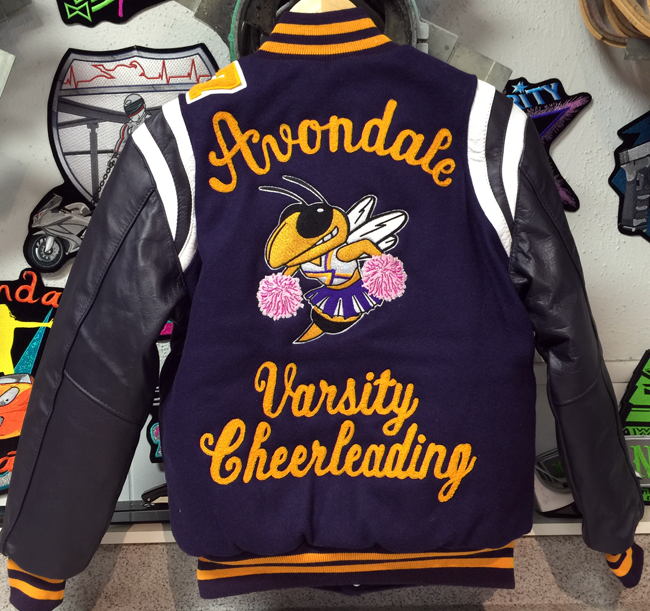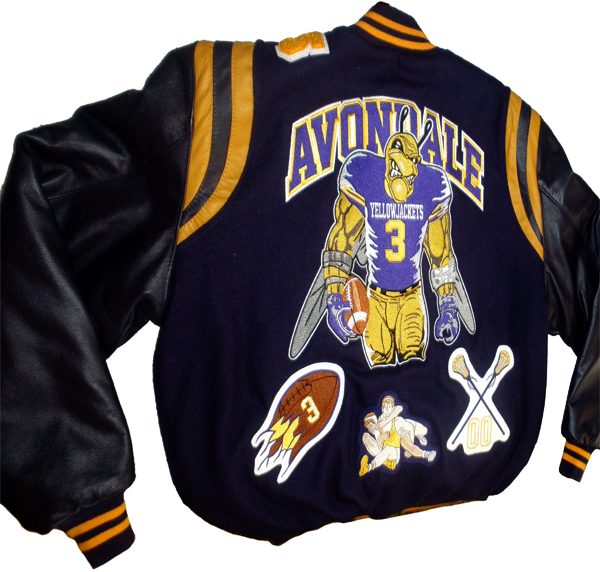 In Shoulder Stripes & Custom Patches
look for our original private label, kap varsity, to know you have an authentic premium quality jacket from get customized.
Each jacket is custom, here is an AVERAGE PRICE RANGE:
for high schools, WITH THE NORMAL SCHOOL MASCOT IN THE MIDDLE BACK
XS, SM, MED, AVERAGE PRICES FOR high SCHOOLS ARE $389-$439.
LRG, XL, AVERAGE PRICES ARE $429-$521.
2XL average prices are $481-$566.
3XL average prices are $511-$611.
4xl average prices are $546-$656.
5xl average prices are $595-$720.
Jackets can go up to sizes, 10xl. the larger the jacket, the more wool & leather.
The lower price range is with regular embroidered words, the higher price is with "old School" chainstitchING words.
prices above are for normal mascot design in the middle, or stock sport design.


***copying your personal photograph in action while doing your sport is an extra $300 per picture, THIS INCLUDES THREE SPECIALIZED ARTISTS WORKING ON YOUR DESIGN. we can not accept blurry pictures, WE CAN NOT CREATE WHAT WE CAN NOT SEE. this works best with one picture ON YOUR COAT TO FILL UP THE SPACE ON THE BACK OF YOUR JACKET. this also works best with close up pictures, if your copying your picture, you want to be able to see your facial features, running from far away is not too good of a picture to pick out. tall skinny objects do not look the best in the space on the jacket because you will have empty space on each side. cropping the picture at the hips works best, because the design will now be big enough to take up the space on the jacket, and it will be big enough to show facial features, and details you can not see from far away. this is a jacket that people will be looking at up close, and a memento for the rest of your life. piCTURES FROM far away on the football field do not show detail; HOWEVER YOU MAY USE THOSE PICTURES, BUT IT IS NOT OUR FIRST CHOICE SELECTION FOR A CUSTOM PICTURE. if the PICTURE was captured by the event photographer, please purchase the original, and EMAIL that picture. that will work best, because it was zoomed in and clear.
General price list above includes the normal mascot on the back or a stock sport design. It includes, the highest quality, thick quilted lined wool body, thick leather sleeves, and superior optional shoulder stripes on your jacket. All Letterman Letters, and graduating year numbers are double stitched, and included to avoid lifting over time. All jackets are manufactured, and fully decorated in the USA.
We have had Mom's tell us that their son or daughter just "had to get their jacket from Get Customized, and Get Customized only". With good reason. Your son and/or daughter knows after seeing all the other jackets at school, that our jacket back design is far superior to any other place out there, with the largest, most impressive, and highest quality jacket back designs possible for your coat. Everyone notices the difference when you get your coat from Get Customized. We have had Moms tell us that they are stopped by the opposing team when at an away game, 30 min from the home team, wanting to know where they got their coat. And in one instance of a custom football design for the back of her son's coat, we were told weeks later, that her son slept in his coat for 3 days straight, and never took it off. With feedback like this, we know we are the best in the business.

***Prices include your jacket back design of School Name at the Top, one school mascot character in the middle (or sport design), and 2 lines of text at the bottom. On the front it includes the sewing on of your letter (you bring in). The sewing of your graduation year (you bring in), and embroidery stitching your name on the front. If the school did not give your graduation year numbers patches, you can purchase it from us. These prices are for normal embroidery, old school Chain-stitching and Chenille is extra. Also any specialty items listed below is extra.
Some Varsity Jacket pictures shown with extra space below the sport on the back. That extra space is room, for another sport when the teen receives the Letter in that sport. Then they bring back the coat to have that word added, after they receive their letter in that sport. Usually adding another sport at the bottom is $40 (embroidery) if we originally made your coat.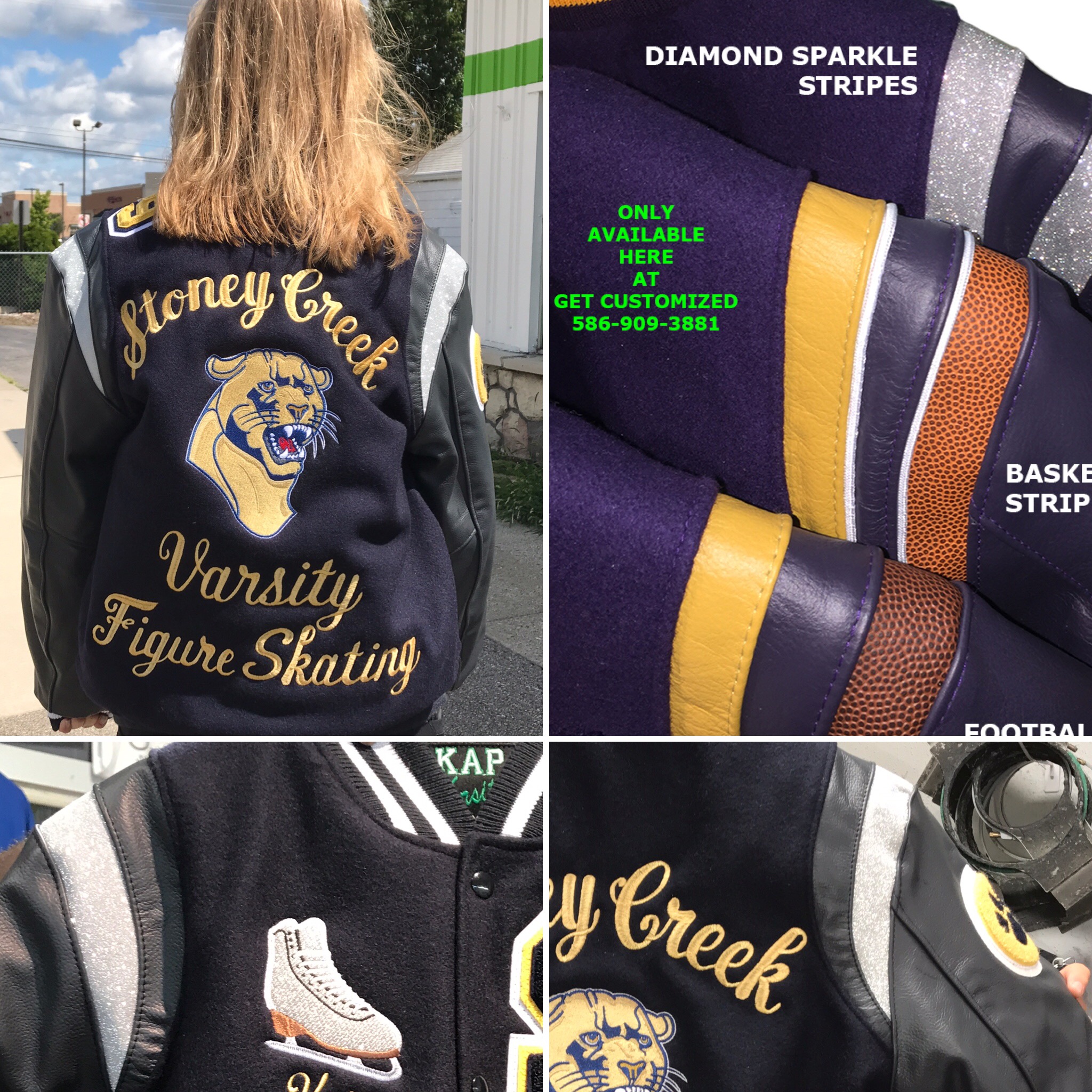 Special services you can not get anywhere else:
of course there is a separate charge for these options
Our Trademark Diamond Sparkle. We can incorporate in the special shoulder stripes, as well as the magnificent designs on the back and patches. no one else in the world is doing this. you can only get it here.

special football and basketball inside the custom shoulder stripes, as well as the patches. real 3d feeling like your touching the real ball.

our amazing new shimmer material adds a splash of brilliant color to your shoulder stripes, in tons of colors, made especially for dance studios, dancers, competitive cheer, and gymnasts. the sky is the limit, with the color schemes available for your custom club.

but i'm vegan........ only here, you can opt for our imitation leather for your jacket sleeves! no one will think it looks different, no one will know. wool sleeves available also.

we can make custom players.

we can make elaborate custom players to look exactly like you.

we can make custom mascots.

we can redesign your old school mascot & make it look amazing, finally! and put the amazing design on your jacket!

we automatically double stitch your front letter, without asking so your jacket looks top quality even a year later.

we make custom patches, in chenielle, reflective material, diamond sparkle, shimmer, and 4 types of regular style patches.

we can sew your patches anywhere on your coat with our special sewing machine. no more taking sleeves apart to get your patches on the sleeve, for an outrageous amount of money from the other guy. yes, we can sew on your pocket, and it will not sew your pocket shut.

we offer a slim fit in the xs, sm, med, and lrg sizes. this is less bulk at the shoulders and tapers in at the waist about 2 inches for that slim look. please keep in mind that the design on the back will not look as huge as it does in the traditional fit.

you can request an inside pocket for your cell phone. you can request 2 inside pockets for your items, one on each side.

we offer "body length longer +2", sleeve length longer +2", or take off 1", etc.... off of your size. totally custom.

we offer for girls who still want that contouring fit. we offer "the booty cut". the jacket will be slightly higher in the back to show off your slimming figure.

our jackets have thick lining for winter months. you can request thin lining, so you can wear it all year round, or in warmer climates other than michigan.

we can offer a stunning jacket you can't get anywhere else, and ship it too you. we ship worldwide.
sizing chart coming on the site soon in a couple weeks. we also have shipped elaborate biker vests worldwide. we have two names, we are also kickasspatches.

Varsity Jackets for Christmas Delivery (Local schools, Local pickup) must be placed by August 31th,
while spots are available, that date may change at anytime. No exceptions, no rushes.

VARSITY JACKETS DETROIT METRO HIGH SCHOOLS NO APPOINTMENT NEEDED.
BRING IN YOUR LETTER, ALONG WITH A THICKER HOODIE UNDERNEATH, TO MAKE SURE IT FITS WITH YOUR COAT FOR THE WINTER MONTHS. IF THE SCHOOL DID NOT GIVE YOU YOUR GRADUATING YEAR, YOU CAN PURCHASE IT HERE. IF THE SCHOOL DOES NOT GIVE OUT LETTERS, YES, WE CAN MAKE THEM FOR YOU.
VARSITY JACKETS CUSTOM BUSINESSES, CUSTOM CLUBS, OR RECREATE YOUR OLD ONE FROM BACK IN THE DAY.
READ BELOW, BEFORE CALLING.
586-909-3881
YOU NEED TO KNOW WHAT COLORS YOU WANT IN YOUR JACKET FOR YOUR COLOR SCHEME. PICK 2-3 COLORS OR A PICTURE OF ANOTHER JACKET WOULD BE HELPFUL. OR DESCRIBE, "I NEED A ROYAL BLUE AND GOLD", OR A FOREST GREEN, GREY, AND WHITE. 2-3 COLORS FOR YOUR COLOR SCHEME OF JACKET. (NOT THE LOGOS, UNLIMITED COLOR IN NORMAL EMBROIDERED LOGOS, 2-3 COLOR IN CHENILLE LOGOS)

YOU NEED YOUR LOGOS OF EACH DESIGN YOU WOULD WANT ON THE JACKET. ANY PICTURES, CLIP ART OR SKETCHES YOU CAN EMAIL AHEAD OF TIME. LOTS OF DETAIL, MEANS LOTS OF TIME ON THE EMBROIDERY MACHINE. TIME IS MONEY. EMBROIDERY IS PER STITCH COVERAGE, AND A SET UP FOR EACH DESIGN. SO THE MORE "CRAZY" YOUR PICTURES ARE, THE HIGHER IN PRICE IT WILL BE. PRICING IS NOT PER COLOR IN EMBROIDERY, ITS BY FINE LINES AND SMALL OBJECTS EVERYWHERE IN THE DESIGN. THE SMALLER THE OBJECTS, THE MORE TIME ON THE MACHINE.

WE ARE VERY LIMITED FOR TIME. SERIOUS INQUIRES FOR CUSTOM CLUB/ JACKETS, EMAIL US YOUR INFORMATION FOR A PENCIL SKETCH LAYOUT OF YOUR JACKET, AND PRICE QUOTE FOR A NON-REFUNDABLE $45, THAT GOES TOWARD THE BILL OF YOUR JACKET. WHEN YOU PLACE YOUR ORDER OUT OF STATE WE NEED 80% DOWN, AND THE REMAINDER BEFORE WE SHIP IT. AFTER THE DEPOSIT, WE WILL EMAIL OR TEXT A COMPUTER GENERATED PICTURE TO SHOW YOU HOW THE BACK DESIGN WILL LOOK. A GOOD ESTIMATE FOR A CUSTOM LARGE SIZE MALE, 3XL WOULD BE $550-$750, JUST SO YOU CAN GET AN IDEA. YOU ARE WELCOME TO COME IN AND LOOK AT COLOR SAMPLES FOR AS LONG AS YOU WANT BEFORE THE APPOINTMENT, BUT WE CAN NOT ANSWER ANY OF YOUR QUESTIONS AT THAT TIME BECAUSE WE ARE BUSY MAKING THE JACKETS.

FEEL FREE TO COME AND LOOK AROUND, AND TRY ON SIZES DURING NORMAL BUSINESS HOURS, BUT WE CAN NOT DISCUSS YOUR PROJECT TILL YOUR APPOINTMENT.

YOUR EMAIL INQUIRE MUST CONTAIN, YOUR NAME, AND PHONE NUMBER, AND WE WILL BE CALLING YOU BACK TO DISCUSS YOUR PROJECT. EVERY JACKET IS CUSTOM AND WE NEED TO SPEAK WITH YOU ON THE PHONE. THE PERSON TAKING YOUR ORDER IS THE VERY SAME PERSON THAT MAKES YOUR JACKET. SO SHE NEEDS TO GET ALL THE DETAILS. IF YOUR EMAIL DOES NOT CONTAIN A PHONE NUMBER WE WILL NOT RESPOND.

EMAIL: NAME, PHONE, ABOUT WHAT SIZE JACKET YOU WOULD NEED, SKETCHES/PICTURES/LOGOS, AND A COLOR SCHEME.